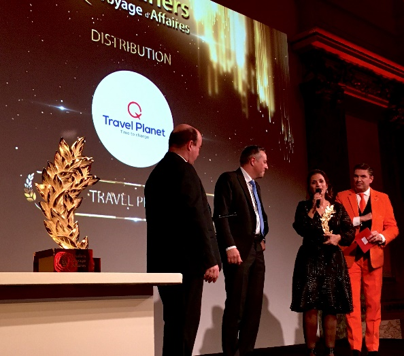 Paris, 27th of January 2020 –
On December 17th, at the Les Lauriers du Voyage d'Affaires, run by Deplacements Pros, Member of Eventiz Media Group, an independent jury has awarded Travel Planet the Best Distribution Solution for the French Business Travel Market. A jury composed of travellers, procurement managers and travel managers rated the Travel Planet's "one-stop shop" offering 8.1 out of 9, based on extensive and cost-effective content, easy-to-use interface, offline service expertise and overall service.
With its Click & Control solution, Travel Planet offers its clients a new approach, with an end-to-end solution and complete control of the value chain integrating:
Full content air inventory including the latest NDC connections;
European rail booking, including the UK and incorporating E-ticket delivery;
Combined negotiated, direct connect and B2C hotel content; and
Direct connection to the main Car rental providers.
The Mobile App has also been considered a key differentiator with full approval process control and the ability for travellers to manage future journeys.
"This award recognizes the work of all our team and their commitment to deliver our customers the highest quality of services and the state-of-the-art technology to meet their expectation. It will inspire us to do even better in the future!"
Tristan Dessain-Gelinet, Travel Planet CEO
https://www.deplacementspros.com/les-lauriers-du-voyage-daffaires-2019